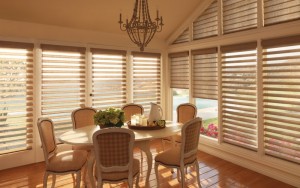 Mini blinds can be used as a complete window treatment or in combination with almost any other style of window covering. Mini blinds provide instant privacy and are effective in controlling the light. There is a diverse selection of sizes and finishes, which allows you to design the room to your taste.
Three basic types of mini blinds include vinyl, aluminum and wood, with wood being the most expensive option. Aluminum blinds are available in a huge variety of colors to coordinate with the rest of your design. Wood, as well as Aluminum blinds, can be custom made.  Vinyl mini blinds are the least expensive, also suited for bathrooms because of the humidity involved with showering. They are also easy to clean and fade resistant.
Additionally, faux wood mini blinds are an option, made of a polymer which makes them sturdy, resistant to moisture, and easy to maintain.